Just a broad copy/paste of my post elsewhere.
—<Post from elsewhere begins>—
From Thomas Cook History: The Tale of the Father of Modern Tourism
—<Quote begins>—
Thomas Cook was a passionate man who was born into a world where most working class people worked long 6-day weeks and never traveled more than 20 miles from their home towns. Thomas would begin work at age 10, laboring in a vegetable garden for 1 penny per day; but with a lot of determination and hard work, this working class man would eventually build one of the largest travel companies in the world.
[…]
Throughout his life, Thomas Cook would work as a Baptist preacher, carpenter, furniture maker, printer, publisher, political advocate, and travel organizer. As a Baptist preacher, he would walk thousands of miles and earned so little that he often worked in the dark to conserve candles and oil.
After seeing the effects of drunkenness at an early age, Cook believed that alcohol abuse was one of the major roots of the many social problems in the Victoria era and would spend much of his time and talents supporting the Temperance movement in England for the rest of his life. In fact, Cook's beginnings as a travel organizer would come about because of his temperance beliefs.
In 1841, he would arrange for a special train to take over 500 people from Leicester to Loughborough to attend a temperance meeting. For 1 shilling, passengers got round trip train travel, band entertainment, afternoon tea, and food. Not a bad deal!
Then in 1845, he would organize his first railway excursion for profit, and the following year he would begin offering trips outside England to Scotland, a country that captivated Cook and would remain one of his favorite destinations. For many of his early passengers, this was their first time aboard a train and the furthest distance they'd ever traveled from their home.
[…snip…]
Cook would rapidly expand operations, escorting tours throughout Europe, North America, and even led the first commercial tour around the world. But perhaps no destination was more sacred to Thomas than his tours to Egypt and the Middle East. Here Thomas could witness firsthand the Biblical lands he had read and preached about all his life, and spending time in the Holy Land was truly a realization of many of his dreams as a young man.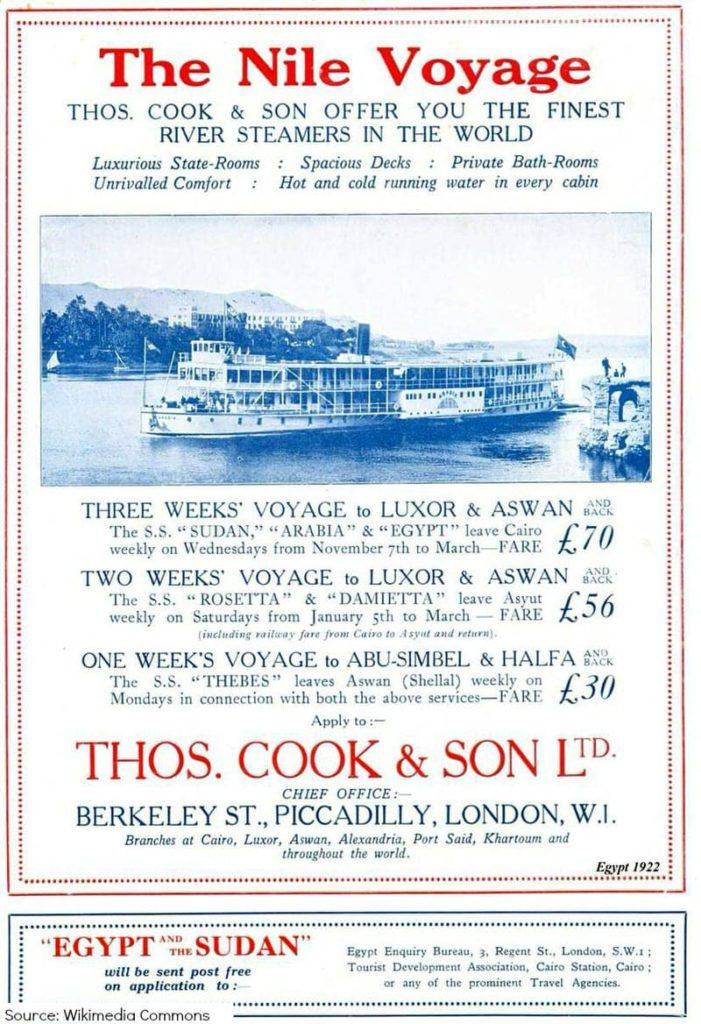 […huge snip…]
Thomas lived during the reign of Queen Victoria—the Victorian era—and while romantic imaginings of spending time aboard the famous Oriental Express, sailing on luxury White Star Line steamships, and staying in grand palatial hotels may have been partially true of the wealthiest of travelers, these are far from the accommodations you could expect as a working class or middle class traveler.
[…]
Thomas Cook's tours, with their discounted organized group rates, made it possible for a lot of working and middle class people to travel for the first time. Cook believed that travel could help educate and enlighten people who, like him, often did not have a proper school education, eliminate prejudices and bigotry, and be a healthy leisure alternative to visiting pubs, gambling halls, and whorehouses.
However, these new travel opportunities for the lower classes was not something that was widely appreciated by many of those in the upper classes of society. Until the nineteenth century, popular tourist destinations were almost exclusively the playground of the wealthy who could afford the time away and expensive cost of travel. The upper classes did not want to mix with the lower classes when traveling.
They criticized Thomas Cook and the excursion travelers, and this criticism likely wounded Thomas, who although he strongly believed in the right for all people to be able to travel, he also strived to be accepted by the upper echelons of society. Despite his success, he never was accepted by the upper classes as he was not of gentle birth, but was a working man and a Baptist in a country still largely controlled by wealthy Anglicans.
However, despite all the criticism, the demand for discounted organized travel would only continue to increase. The number of travelers from London who crossed the Channel to continental Europe rose from 165,000 in 1850 to 951,000 by 1899. Travel agencies and organized travel were here to stay.
[…]
His religious fervor would make him seek out exotic locations such as the Middle East and his determination would lead to Thomas Cook & Son opening offices around the world. Perhaps his greatest legacy is that he helped make it possible for a new group of people to engage in leisure travel. Cook understood well the drudgery of hard work and trying to support oneself on a meager income, and his tours provided working and lower middle class people the opportunity to explore a world they could have only have read about otherwise.
[…]
However, some things have not changed very much. Criticisms of organized travel remain with the notion that independent travel is better and people love to make the subjective "traveler" versus "tourist" distinction. There are also still locations that remain primarily the playgrounds of the wealthy although never like during the Victorian age. Travel remains class segregated as those who can afford to do so can fly in first class seats, dine in the finest restaurants aboard ships, and sleep in the best cabins with little need to spend much time with other class passengers.
—<Quote ends>—
[…snipping my words…]
Finally… science fiction has a long-standing hostility to religious motivations. But the real world works differently than secularist ideology dictates. Other Referees — including the designers of Canon Traveller — can craft their campaigns and settings as they will, but I prefer my ties to the real world as grounded as I can: to see things as they are, as much as is possible.
From God's perspective, if you will.
And my focus is not so much on the flashy high-tech tools, as on the plans, goals, and motivations of the tool users.
Not Power, but Purpose.
—<Post from elsewhere ends>—